Product Introduction
The animal glass tube microchip is a readable and writable min RFID tag, which is small in size and easy to conceal. It is widely used in the field of animal management, such as fish, dog, cat and other pet management. Features: Small size, light weight, simple implantation, using bio-glass encapsulation, long reading distance and non-slip material on the surface. Comply with ISO11784/11785 standards.This kind RFID Animal Microchip is packing only microchip with needle, and the injector is reusable.
Product Parameters:
| | |
| --- | --- |
| Material | Bio-glass |
| Working Frequency | 134.2KHz |
| Chip | EM4305 |
| Memory | 363 bits Read and writable |
| RF Standard | ISO11784/11785 FDX-B |
| Dimensions | 2.12X 12mm |
| Needle length | 26mm |
| Operating Distance | 2-10cm (base on the reader) |
| Working Life | > 100,000 times |
| Working Model | Passive |
| Operating Temperature | -25℃ ~ 75℃ |
| Stock Temperature | -30℃ ~ 80℃ |
Size Optional: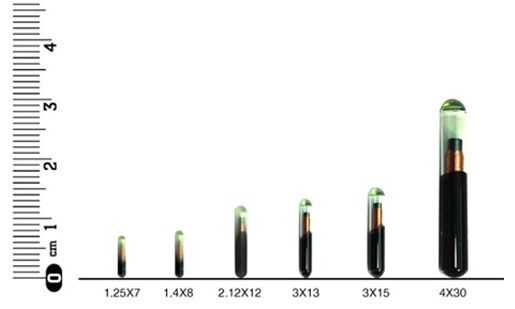 Package:
30pcs/box, 1200pcs/carton
Carton size: 45*44*40cm
GW: 10kg
How does animal microchip work?
1.Scan the animal to verity whether he or she has a microchip that has been previously implanted.
2. Scan the microchip pack to venily that the microchip is functional, and that the ID code matches the accompanying barcode lables.
3. Implant the microchip, then rescan the animal to verify the presence of the microchip.
4. Don't forget to record the ID number of the microchip.
Microchips are most commonly implanted in animals. when Scan dogs and cats, starting with the area of the neck where the microchip is most likely to be placed,but be sure to scan carefully and patiently. Scan the whole body repeatedly to ensure that the microchip has been injected successfully.