Product Introduction:
This duplicate rfid fob No engraved number printing on the surface.
Need to use a copy machine to write the id number for use.
Built-in compatible T5577 chip id number can be rewritten repeatedly.
Ideal for locksmiths or those with duplicating equipment.
Product Parameters:
| | |
| --- | --- |
| Product name | Duplicate RFID Fob |
| Material | ABS |
| Size | 28*35mm |
| Chip | Compatible T5577 |
| Working Frequency | 125KHz |
| Protocol | ISO7814/5 |
| Working Temperature | -20℃~70℃ |
| Working Life | 100,000 times |
| Features | Read and write |
| Reading distance | 2~5cm |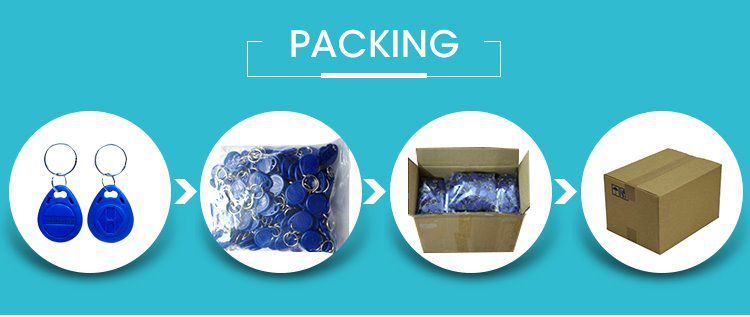 Package:
100pcs/bag
2000pcs/ctn
Carton size:38*20*28cm
GW:12KG
Duplicate RFID Fob refers to forcibly duplicating the authorization card with a duplicator and duplicating keyfob package, without going through the property or the landlord.
Just find a keyfob (authorization card) that can open the door, Read the authorization card through the duplicator, and take another a copy keychain, click the write card to complete the copy operation, generally used by locksmiths with keys.
Authorization card means that the access control machine needs to be authorized by the mother card, the access control machine enters the programming command to issue the card or the access control management system computer issues the card, but it needs to be matched with the chip. For example, the ID access control machine must use the ID chip access control cards, generally authorized by the property and the landlord.
Note:
If there is a copy technology, there is an anti-copy technology, and there is no 100% success rate for cracking the copy technology.
95% of the cards on the market can be copied. This product is only used for less card, lost card, replacement card and backup
Do not use it for illegal acts, otherwise you will be responsible for the consequences! ! !