Product Introduction:
RFID blocking card are specifically designed to block wireless signals from high-frequency smart cards (such as payment cards, bank cards, etc.) to prevent unauthorized individuals from stealing card information. Simply place your smart card with the shielded card provided by our company, and your payment signal will be effectively blocked. No matter what device illegal individuals use, they cannot steal your card information, ensuring that your card information is not violated and safe to carry, Prevent information leakage.
Features: Keeps your information of cards, such as credit cards, debit cards, drive license, identification cards, passports, etc, safe from nearby or remote RFID scanning with the Blocking Card.
Product Parameters
Products Name
RFID Blocking Card
Material
PVC
Card Size
85.5*54*0.9mm
Weight
8g
Printing
Customized Full Color Printing
RFID blocking type
E-field blocking
Shield Frequency
13.56MHz
Shield RF interface
ISO14443, ISO15693
Shield Distance

Normally the rance 5-6cm, One side 2.5-3cm.(The blcoking rance base on the reader power)

Waterproof

Yes

Durable use time

10 Years

Protection

All kinds cards with 13.56MHz. Such as credit cards, identity cards, drive cards, bank cards, dibet cards, passport, etc

Operating Temperature

—50℃ ~ 85℃

Package

200pcs/box, 2000pcs/carton

Carton size:48*29*20cm

GW:16kg
How to use?
Step 1: Place in center of wallet
Step 2: Relax, as you are now protected
(No battery required)
Note: The electronic field produced by the Blocking Card has a limited effective range.
For best protection, place the Blocking Card directly in front (or back/middle) of your credit and debit cards(As picture on left). Certain wallet layouts may require 2 Blocking Cards to ensure the highest coverage of protection.
Why use RFID blocking card?
The Consumer Sentinel Network, maintained by the Federal Trade Commission (FTC), tracks consumer fraud and identity theft complaints that have been filed with federal, state and local law enforcement agencies and private organizations.Of the 3 million identity theft and fraud reports received in 2018, 1.4 million were fraud-related, and 25 percent of those cases reported money was lost. In 2018, consumers reported losing about $1.48 billion related to fraud complaints, an increase of $406 million from 2017. The median amount consumers paid in these cases was $375. Within the fraud category, imposter scams were the most reported and ranked first among the top 10 fraud categories identified by the FTC. They accounted for $488 million in losses. In 2018, 15 percent of all complaints were related to identity theft. Identity theft complaints were the third most reported to the FTC. Identity theft claims fell from 2015 to 2018 by 9.3 percent, but began to increase again in 2018 and were up 19.8 percent from 2017 to 2018.
The blocking card needs no battery.
It draws energy from the scanner to power up and instantly creates
an E-Field, a surround electronic field making all 13.56mhz cards
invisible to the scanner.
Once the scanner is out of range the blocking card de-powers.
Convenient
Simply carry this blocking card in your wallet and money clip and all 13.56mhz cards within range of its E-Field will be protected.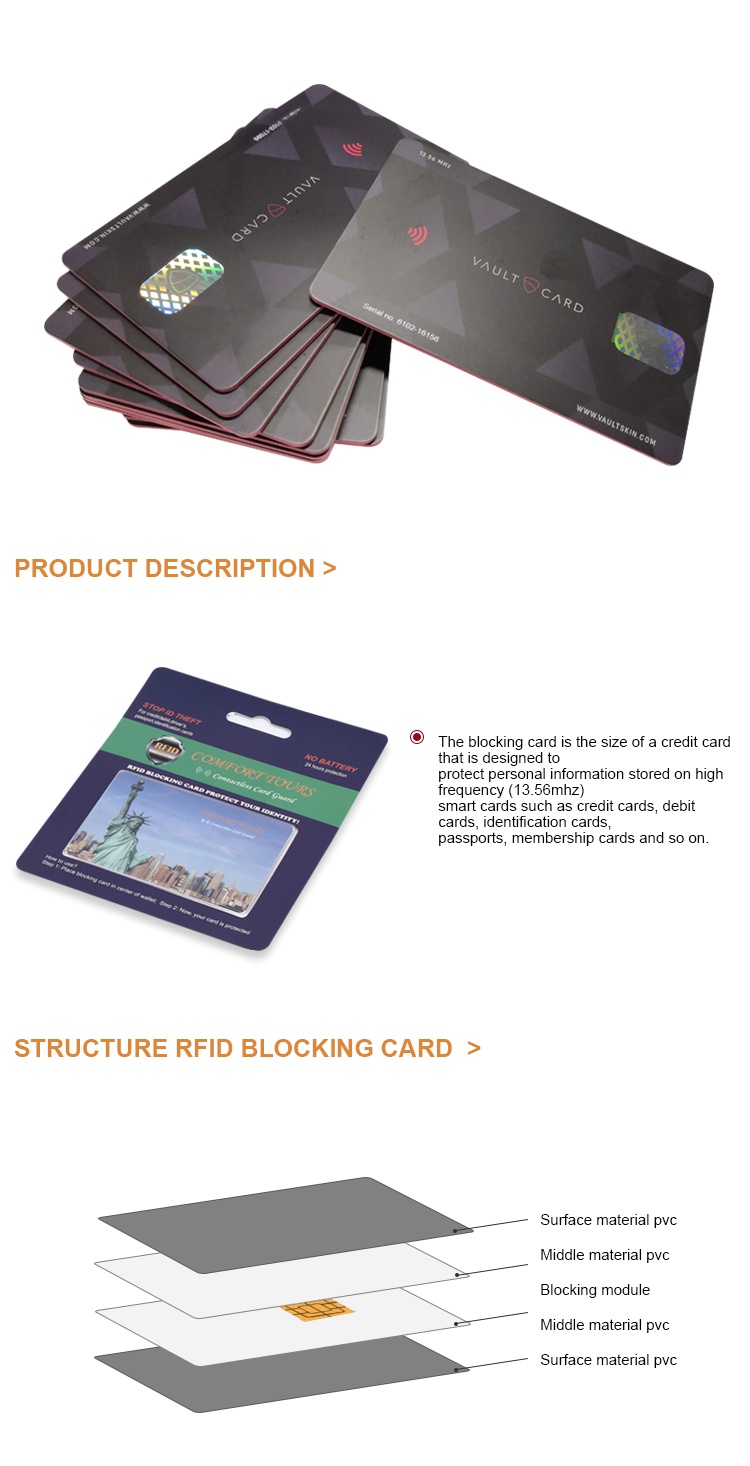 Company Profile
Our company is a professional manufacturer of key fobs, T M cards, thick cards, R FI D Cards, Epoxy tags and ear tags. Our R & D, production dept and Q C team have more than 15 years experience in China.
We own over 3, 2 0 0 square meters of factory, 8 0 0 square meters office, 5 modern production line, and over 1 3 0 workers.
We have our own A B S/ T P U/ Silicon producing machine, mould producing line, chip flip machine, copper wire producing line, silk printing line, and all other machine needed for our products.
We are one of the few factory that own the complete production line from chip bonding to the final production step, which decided our advantage in good quality, lower cost and soon delivery.
The production capacity of our key fob is 4 0 0 k pcs per month, T M card is 3 0 0 k pcs per month, thick card is 2 0 0 k pcs per month and ear tag is 2 0 0 k pcs per month.
We committed to providing target customer with a comprehensive R F I D products.
Our Products have been exported to various countries and regions, we have distributors in Russia, American, U K, Germany, Brazil, etc.
We have got our customer's well support and confidence both from Domestic and Overseas. 8 0 % of our business comes from cooperated customers.